Cosmetic Dentistry in Grande Prairie, AB
Everyone wants a great smile. It projects confidence and good humour and it's the best way to make a good first impression. The experts at Grande Prairie's Higson Dental Group know that the foundation of great smile starts with having great teeth. If you have damaged your teeth, or if they have become discoloured over the years, we can help you decide on the best solution.
Cosmetic Treatments
There are a variety of treatments available that will get your smile back to its best, and Higson Dental Group is the authority on cosmetic dentistry for Grande Prairie and its surrounding areas.
We offer the following services:
These custom-made ceramic shells bond directly to the surfaces of your natural teeth, and if properly cared for they will improve their appearance for years.
Bonding is an alternative to using veneers and can be a great way to improve the appearance, strength, and function of your teeth. Rather than using a porcelain shell, bonding utilises a plastic resin applied to your tooth's surface to smooth out any irregularities.
A porcelain, gold or composite resin appliance used to repair a damaged tooth, either on the exterior or interior.
Using bleaching technology to whiten discoloured teeth and brighten your smile.
Use crowns, bridges or implants to repair gaps, holes or damage to your teeth and their surrounding structures.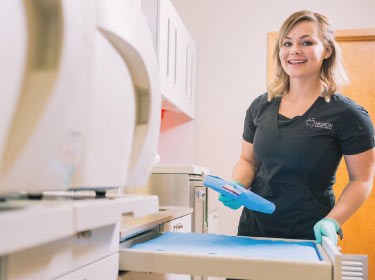 Call Us Today!
The dentists at Higson Dental Group are happy to meet with you if you have questions about cosmetic dentistry in Grande Prairie and its surrounding areas, and we are always accepting new patients. Visit our contact page or call us at 780-532-4661 to schedule an appointment.
Contact Us